Cookbook
Recipes are a means of transmitting food memory across generations. Certain recipes have special significance because of their association with specific people or events, other foods have historical relevance because they indicate the ingredients and techniques available at certain times in the past.
Entries in the critical cookbook will explain the social and historical context of some common southern dishes, establishing a culinary memory bank.
Banana Nut Bread
by David Loos

4 to 5 very ripe bananas
1 stick softened butter
2 eggs
1 cup sugar
1 cup packed brown sugar
1 tsp pure vanilla extract
1 tsp ground cinnamon
1 tsp baking soda
1 tsp baking powder
1/2 tsp salt
2 1/2 cups all purpose flour
1 cup chopped walnuts/pecans (optional)

Grease (Crisco) and flour sides and bottom of pan(s). Preheat oven to 350°. This recipe is designed to be prepared with a food processor, but you can mix all the ingredients by hand if you don't have food processor.  If you are able to use a food processor, mix all of the ingredients in the order listed.  Peel and mash the bananas. Then set them aside.  Mix cream butter and eggs thoroughly.  If you are mixing by hand, make sure the butter is soft, but not melted.  Next, add the regular sugar first, and then add the brown sugar to the mixture. Add vanilla and cinnamon to the mix, and then add the bananas to the mix. You can add a little more vanilla and a little more cinnamon, but don't add too much more.  Mix thoroughly. Add the baking soda, baking powder, salt after mixing the first time and continue mixing the ingredients together. Now add the flour 1/2 cup at a time making sure to mix everything thoroughly before adding another 1/2 cup of flour. This batter will be smooth and thick, but it should be pourable. Pour this batter into the prepared pan(s). Bake at 350° for about 50 minutes.  If you choose to add nuts, mix them in after all of the other ingredients have been combined.  Save a few of the nuts in order to decorate the top of the bread right down the center of the loaf. Let the cooked breads cool in the pans for about 10 minutes after you take them out of the oven.  Then, remove from pans and allow them to cool thoroughly before wrapping them tightly in plastic wrap. Makes 1 large loaf or 2 smaller ones, depends on size of loaf pan.

The essential ingredient of banana nut bread, bananas, has an interesting history with social, political, and personal implications that serve to reinforce the significance of the food product as a whole.  In the present day globalized market that supplies bananas in an economically convenient and available fashion, the banana ranks "fourth among all agricultural products and is the most significant fruit, with world trade totaling US$4.8 billion in 1999" (Ploetz).  From the poor subsistence farmers who relied on bananas for survival to the implementation of an economic trade system that warped the banana's traditional purpose into a tool for economic prosperity and public acculturation, the historical timeline illustrates how aesthetically valuable recipes, such as my family's banana nut bread recipe, materialized in kitchens, cookbooks, and enduring family traditions.

In the beginning, the banana emerged as a viable crop in southern and Southeast Asia about 2000 years ago, and it spread to Africa, Polynesia, tropical South American regions, and the Caribbean.  The banana alone adequately supplements a wide array of nutrients including carbohydrates, potassium, calcium, phosphorous, and vitamin C, and this healthy crop has traditionally been "prized in the developing world because it can be grown with minimal care"(Ploetz).  As a crop, bananas would be produced and harvested in the harsh tropical climates by either subsistence farmers or by cheaply purchased laborers from the working class who relied on seasonal jobs, such as farming, in order to support themselves or their families.  The relative ease with which cultivators produced bananas made the banana an economically expedient crop that supported the impoverished prior to the global imperialism of Great Britain which sought to implement a trade infrastructure necessary to establish colonial ties between the mother nation and its banana suppliers, specifically in the Caribbean (Clegg).  Great Britain extended its colonial domination to the Caribbean in the late 19th century due to the "great potential in developing a significant banana export trade" (Clegg).  The establishment of this trade system which utilized the banana as a resource for profit allowed the banana to be assimilated into different cultures, especially American food practices, and provided a foundation for cultural expansion as people cheaply synthesized new uses for the nutritious banana in their everyday food practices.

As the globalized economy redefined cultural boundaries, people avidly accepted the foreign banana into their food practices and began to modify its traditional means of preparation in order to satisfy their palates.  In the kitchen, it is not unlikely to assume that African American domestic workers prepared bananas and potentially added a few of their own personal alterations to the final product.  "[Bananas'] few popular uses in cookery and baking were confined largely to sweet breads, pies, and ice cream desserts" (Soluri).  Although the incorporation of bananas in family meals by tedious preparation methods opposed the growing desire for convenient, satiating food products, "the sleek, yellow fruit had become an American obsession"("A Banana Republic") because of its versatility as a nutritious food in its standard form and as a processed dish, such as banana bread.

My recipe for banana nut bread was given to my mother from my father's mother and, due to "u-boat sinkings and the requisitioning of ships by the U.S. Navy" ("A Banana Republic") during WWII, an assumption that this recipe merged into my family's tradition after WWII is not unreasonable.  The recipe originally required oatmeal for the final bread, but advancing technology, namely a food processor, allowed my mother to modify the recipe to exclude oatmeal.  Prior to technological advances in food preparation, this bread would be made with the simplest combination of essential ingredients using the most elementary preparation methods in order to reduce the amount of labor input.  My family has traditionally prepared this bread around Christmastime, and we would present our neighbors, friends, and family with the sweet bread.  Normally I would have assumed this action as simple kindness, but the communal implications of our actions have become more apparent to me and serve to reinforce the theme of food as a medium for fellowship.  All-purpose flour, baking powder, baking soda, and the food processor are all substitutes that minimize the preparation time, and the addition of nuts in the recipe illustrates how the original recipe has been further modified from its primitive state in order to immortalize my mother's alteration.

Works Cited
"A Banana Republic." The Wilson Quarterly 24.4 (Autumn 2000): 14. Rpt. in Opposing Viewpoints Resource Center.  Opposing Viewpoints Resource Center.  Gale.  Mercer U, Macon, GA. 19 Apr. 2009.  http://infotrac.galegroup.com/itweb/?db=OVRC.

Clegg, Peter. Caribbean Banana Trade: From Colonialism to Globalization. New York City: Palgrave Macmillan, 2002. History and Humanities. Ed. Ebrary, Inc. 2009. ebrary. 18 Apr. 2009. http://www.ebrary.com/.

Ploetz, R. C. Diseases of Tropical and Subtropical Fruit Crops. Cambridge, MA:  CABI Publishing, 2003. History and Humanities. Ed. Ebrary, Inc. 2009. ebrary. 18 Apr. 2009.  http://www.ebrary.com/.

Soluri, John. Banana Cultures: Agriculture, Consumption, and Environmental Change in Honduras and the United States. Austin, TX: University of Texas Press, 2005. History and Humanities. Ed. Ebrary, Inc. 2009. ebrary. 19 Apr. 2009.  http://www.ebrary.com/.

Cam Hood's Tangy Barbecue Chicken
by Jay Hood
Sauce:
3/4 cup cooking oil
3/4 cup cider vinegar
1/4 cup water
1 1/2 tablespoons salt
1 1/2 teaspoons Tabasco sauce or Worcestershire sauce
Measure out all ingredients and mix them together in a small sauce pan. Heat the stove to medium and place the sauce pan on the stove. Allow this sauce to heat while continuously stirring until the sauce becomes hot, but before it boils. Remove the sauce from the stove and proceed to the chicken.
Chicken:
Take 4 chicken breasts and sprinkle a half teaspoon of salt on each side. Heat a grill to at least 400 degrees Fahrenheit and baste one side of every piece of chicken. Place the breasts on the grill and allow the basted side to cook for 3-4 minutes. Then, baste the un-grilled side with the sauce and turn the breast over. Repeat this process of basting and cooking until the chicken is done. Total cooking time should be approximately 20 minutes.
Growing up in suburban Georgia in the 1950s and 1960s, my mother was required, as were all other young girls, to take home economics classes. In these classes, young women learned basic things women at the time were expected to learn: sewing, cleaning, and, of course, cooking. As such, she was required to create her own dish for the class as a final project. Now, forty years later, she has given the recipe to me.
Socially, this particular dish is significant in two ways. First, its creation is directly related to the defined gender requirements of the 1950s and 1960s United States. All girls were required to take home economics because it was believed that the skills they learned in such a class would be put to good and frequent use as stay at home wives. Also, learning how to cook was especially important for young women, or so the class suggested, as cooking was the role the wife played in the family at the time. As such, the class attempted to prepare my mother for a future where having to cook a dish such as this for her husband when he came home from work every day would be the extent of her career. This dish (my mother's recipe – not barbecued chicken itself) is therefore a product of a society that valued conservative gender roles.
Secondly, the dish itself combines two aspects of southern culinary culture into a single food. The chicken, disputed as its role is as a staple of southern food, has nonetheless proved a historically common food for rural and suburban southerners for nearly a century. The barbecuing of the food is likewise a southern food practice, originating with the Native Americans of Cuba, known as the Taino, and brought back to Europe by Columbus and his explorers. After the settling of Jamestown and the introduction of pigs to America's ecosystem, barbecuing as a means of food preparation (due to the tendency for the slow cooked meat to simply fall off the bone after a while) became a fairly common practice across the eastern seaboard (Warnes 12-29). Most notably, North Carolinians have adopted this tradition, with North Carolina acting as the unofficial capital of barbecue for the United States. Numerous barbecue purists assert that the true form of barbecuing is the North Carolina style. As such, according to John S. Reed, a true North Carolinian barbecue aficionado if there ever was one, true barbecue is "cooked slow over hardwood coals" (Reed 7-10). Also, "true" barbecue happens to be pork. Regardless, we call our chicken barbecue anyway, and to hell with the purists who tell us we are not barbecuing. The nature of this cooking process, particularly the use of hardwood coals, is one of the many ways in which cultural discrepancies exist between different parts of the South (Reed 24). Yet for my mother, barbecue is more than pork and the hardwood coals a luxury only sometimes afforded over the simpler, cleaner, and more environmentally friendly method of gas grilling – in which case the barbecue ceases to be barbecue and becomes grilled chicken: just as delicious, but not quite the same.
While the food my mother cooks is chicken, its means of preparation is nonetheless similar to the means of preparing pork barbecue – it simply lacks the pork aspect. Indeed, while barbecue as a southern term almost always refers to pork, the practice of barbecuing chicken is still very much a southern tradition. As John Egerton states in Southern Food, in the South "chicken is more common (and in my opinion, better) as a backyard barbecue meat" (Egerton 148). In addition to this, the sauce one puts on any barbecue, be it pork or chicken, is really the secret ingredient (next to the smoke produced by the burning of the coals) to barbecue. These sauces, according to Reed, have three essential components: a mildly acidic base, such as vinegar, something salty, like soy sauce, and something spicy, such as black pepper (Reed 24). My mother's method clearly follows this established formula, utilizing vinegar and oil, salt – in and of itself, and a name brand sauce like Tabasco or Worcestershire to concoct a sauce that is able to appeal to those who prefer a sharper taste to their chicken, yet mild enough for sensitive pallets.
Egerton's previous statement concerning the commonality of chicken for home barbecuing is significant in that it hits upon a modern tradition in the South, the tradition of the backyard barbecue. While my family rarely entertained guests, backyard barbecues are a common memory of my childhood. Rather than slowly barbecuing the pork, which could have just as easily have been acquired as our local barbecue joint, Hudson's, we instead barbecued chicken, complete with my mother's original tangy sauce. More than this, however, eating Hudson's barbecue is a family tradition. It would be blasphemy to think we could do better than, or even as good as, Bubba Hudson and his dad. In this way, actual barbecue joints that typically make their claims to fame by selling their own particular style of barbecued pork allow for families (or my family, at least) to instead barbecue chicken, an often much simpler feat in my opinion. 
Works Cited
Egerton, John. Southern Food. Chapel Hill: The University of North Carolina Press, 1987.
Reed, John. Holy Smoke. Chapel Hill: The University of North Carolina Press, 2008.
Warnes, Andrew. "Savage Barbecue: Race, Culture, and the Invention of America's First Food." Choice. 46.6. (2009): 12-49.
Gumbo
by Clara Densmore

First, put on a big pot of water to boil. Add a cut up chicken, a few stalks of celery (I use the tops which might otherwise be wasted). Add about three big bay leaves and some salt. Cover and boil until the chicken is cooked through and will come off the bone easily.
To make the roux, put a large cooking spoon of oil in a big heavy pot, add a large cooking spoon of flour and cook over medium heat. Cook and stir frequently until the mixture is smooth and a dark caramel color. If you burn the roux, pitch it and start over. Your gumbo won't have a good flavor if you start with a burned roux.
Finely chop a big yellow onion and a bunch of celery and add to the roux. Cook until onion is almost clear and celery is soft. Add a green bell pepper, chopped fine. Add chopped green onion, a few cloves of garlic chopped fine and a half bunch of parsley, chopped fine. The reason you add these after the celery and onion are mostly cooked is this: the celery and onion take longer to cook through and the bell pepper, parsley and garlic would be burned in that amount of time.
Cut off the tops and bottom tips of about 50 pieces of okra. I chop it fine and fry it in a little oil in a separate skillet. Stir the okra into the pot. Stir in chopped tomatoes.
Now add the liquid. Strain the hot broth, and add about one cup at a time, stirring after each addition. This is the scientific part where the liquid reacts with the roux; temperature counts.
De-bone the chicken and add to the pot. Add some thyme and basil. I guess a teaspoon of each. Maybe more, I don't know, really.
Traditionally, people keep a blend of three peppers, cayenne, black and white, on hand and you could add about a half teaspoon of that along with a little salt. I try not to over season salt and pepper because you can always add more at the table. Some members of my family will add Louisiana Hot Sauce or Tabasco Sauce to their bowl, along with some file powder.

So, now it's all in the pot. Cook for maybe an hour or less. If you have a lot of liquid, leave the lid off the pot and let some of the liquid cook out; your gumbo will thicken.
Recipe developed by Nancy Pratt
The Catholic Church was big part of my family and life growing up, and one of the most important periods during the year is Lent. Good Friday is never the same without my Godmother's gumbo. The gumbo we ate had a wide variety of seafood and greens. Every Good Friday, my Godmother would have family and friends over, and she would make her famous gumbo. My Godmother is originally from New Orleans, Louisiana, and she delights in sharing her food heritage with others. Her Granny, every Sunday afternoon, would buy a huge burlap sack of oysters; the boys would shuck the oysters into the water, and she would make a large pot of seafood gumbo to serve all the relatives. Her recipe is made up of memory and general estimations. Although her Granny used the same recipe, she always remembers its unique taste because everyone's gumbo has its own flavor. Commonly, her Granny would make her gumbo with whatever was available, such as chicken, smoked sausage, leftovers, or whatever seafood her Dad caught that day. I would always look forward to Good Friday because my Godmother would tell me more stories about her New Orleans heritage, and I could enjoy a bowl of gumbo with family and friends.
Gumbo is a common meal that is respected in many New Orleans kitchens. In general, gumbo is a thick soup with a variety of vegetables and meat served over rice. Its name derives from the Congo "quin-gombo" which means okra. The origin of gumbo came from the combing cultures of French, Native American, and Spanish. Many people think that gumbo is based off of a French soup called the bouillabaisse.  The Spanish influenced the idea of the "holy trinity" that includes celery, bell peppers, and onions, and the thickening agent filé, which is the powdered sassafras leaf, originating from the Choctaw Indians. The origin of gumbo reflects New Orleans' melting pot of cultures.
There are many variations of gumbo across the South, and the different flavors of gumbo each tell a different story of tradition. There are three main different ingredients that one can add to their gumbo: okra, filé, and roux. Okra was generally used to thicken gumbo, and many people only use okra when it is in season. Okra not only thickens the gumbo, but it adds a distinct flavor. The second type of ingredient is filé, which add a tea-like flavor to the soup and is generally mixed in at the very end of the cooking process. Many people used filé when okra was out of season, but today people make both. The third element is roux. Roux is a combination of flour and oil cooked over heat. The roux can be a different color depending on the oil and flour used. These three ingredients all make variations of the same gumbo, and many people have different reasons for using a certain one over the others.
The exceptional thing about gumbo is that it is shared by every social class. The ingredients of the gumbo can signify what type of person ate that gumbo. Creole gumbo is the wealthier class that contains more meat and ingredients. The Cajun gumbo contains more vegetables and leftovers. Gumbo is generally referred to as a "poor man's dish" because the ingredients generally start with roux, flour, and oil that are found easily in a pantry and the rest of the ingredients can be found in a garden. If the gumbo contains more seafood, than the person may be living near the coast, while, if the gumbo contains more meat, the person may be living near the woods. Typically, in Creole dishes, one can find more herbs and flavors, while in Cajun dishes one can find the ingredients of the "holy trinity." Some families use a certain amount of greens that may represent the amount of friends they will meet in the new year. The traditions and ingredients vary across states and cultures which makes gumbo a specialized cultural dish through generations of families. This dish is important to me because it represents important times in my life. I associate it with the people I love, and the times I loved spending with them.  
Works Cited
Hilton, Lee. "Leafy Greens Aplenty: It Must Be Gumbo Time."Long Island Weekly Desk. 2007.

Yardley, Jonathan. "The food and restaurant culture is keeping New Orleans alive.." The Washington Post 10 FEB 2008: 15.
Evans, Amy. "A Short History of Gumbo." Gumbo Trail 31 Mar 2009 <http://www.southerngumbotrail.com/history.shtml>.
Chess Pie
by Megan Armstrong
Ingredients:
3 eggs lightly beaten
½ cup of melted butter
1 ½ cups of sugar
½ cup of brown sugar    
¼ cup of milk
1 ½ tsp of vanilla extract
1 tbsp of plain white cornmeal
½ tsp of salt
1 unbaked pie crust

Preheat oven to 425˚ and put rack on lowest level in oven.  Place unbaked pie crust in a nine inch pan.  Mix together brown and white sugar, butter, salt, and vanilla.  Beat eggs in a separate bowl and then add mixed sugar and butter.  Stir, add cornmeal and milk, and stir mixture until smooth.  Pour into unbaked pie crust and then put this into the preheated oven.  Bake for ten minutes, and then reduce the temperature of oven to 300˚ and bake for forty more minutes or until top is golden brown.  This serves 6 to 8.

Many southerners believe that chess pie has been around forever, but the fact is that chess pie did not appear in any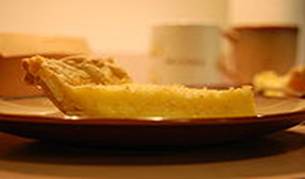 cookbooks until about forty to fifty years ago.  There were many pies similar to chess pie found in old cookbooks, but the name chess pie cannot be found. Now, chess pie is considered a specialty food characteristic of southern cuisine found in most southern cookbooks.   Recipes for chess pie vary, but the vital ingredients including eggs, butter, brown and white sugar, and vanilla are consistently found in the recipe, and one thing that sets chess pie apart from similar pies, such as custard pie, is the substitution of cornmeal for flour.  Also, some variations of the classic chess pie are chocolate chess pie and lemon chess pie.  This simple southern dessert that does not take a lot of effort or time to make is made by many southerners of all kinds and frequently made for special occasions, such as Thanksgiving, or just for family gatherings for Sunday dinner.  These meals bring the family or friends together to talk and share a great meal without any distractions from the outside world.

One of the most interesting facts about chess pie is no one really knows where the origin of the name came from.   There are many stories surrounding the origin, but no one story takes prevalence over the others.  John Egerton states in Southern Food that there are two stories that seem to be true.  The first story he mentions has to do with the fact that sometimes pies were kept in an old southern piece of furniture called a pie chest.  Chess pies contain so much sugar that they held up well in these pie chests.  Another common story about where chess pie derived its name from is about a plantation cook who had limited ingredients and decided to create her own pie with what she had.  While she was baking this new pie, her employer asked her what smelled so great, and she replied, "It's jes' pie."  Elizabeth Hedgecock Sparks states in North Carolina and Old Salem Cookery that the name derived from Chester, England where the dessert might have evolved from their classic tart recipe.  Despite its ambiguous origin, chess pie is a favorite specialty food to many southerners that connects them to their past of when their grandmothers used to make pie just like it for family gatherings.

Chess pie has been a tradition in my family ever since my parents moved to Tennessee a few years after they got married.  My parents were born and raised in Wisconsin so they knew little of southern culture, more specifically, southern cuisine.  Soon after my parents moved in, one of their neighbors came by to welcome them to the neighborhood and baked them a chess pie.  My parents had never heard of this pie, of course, so my neighbor explained the name of the pie by telling them the "Jes' pie" story.  My mother, being the corny woman that she is, thought the story was hilarious and cute and got the recipe immediately.  Since then, my family has been incorporating chess pie into our Thanksgiving meal, giving our meal a much needed southern touch.  Even though we live in Tennessee now, my parents stay true to their northern roots when it comes to things like food; however, chess pie is one of the few southern dishes that we keep as a tradition in my family which is why it is very important to us. 

Works Cited
Egerton, John. Southern Food: At Home, On the Road, In History. Chapel Hill, NC: University of North Carolina Press, 1987.
Shilcutt, Katharine. Chess Pie: A Southern Tradition. The Houston Press Food Blog. 26 Mar. 2009.
http://blogs.houstonpress.com/eating/2008/12/chess_pie_a_southern_tradition.php
Sparks, Elizabeth Hedgecock & Tartan, Beth. North Carolina and Old Salem Cookery. Chapel Hill, NC: University of North Carolina Press, 1992.
Stradley, Linda. The History of Chess Pie. What's Cooking American.net. 26 Mar. 2009.
http://whatscookingamerica.net/History/PieHistory/ChessPie.htm
Pot Roast
by Jeanette Crawford
3 pounds beef/chuck roast
3 tablespoons olive oil
1 medium onion chopped
1 celery stalk sliced
2 garlic cloves chopped
2/3 cup balsamic vinegar
1 can beef stock
6 small red potatoes (halved)
4-6 quartered carrots
Use a thick-bottomed covered pot, such as a Dutch oven, just large enough to hold roast and vegetables. Heat 3 Tbsp of oil on medium high heat. Sear the meat on all sides. Don't move the roast while a side is browning, or it won't brown well. When the roast is browned, lift up the meat and add garlic and chopped onion to the bottom of the pan. Let the roast sit on top of the onions. Add the can of beef stock and balsamic vinegar. Bring to a boil and add potatoes, carrots, and chopped celery. Cover. Bring to simmer and then adjust the heat down to the lowest heat possible to maintain a low simmer. Let simmer for approximately three hours. When meat and vegetables are tender, the pot roast is ready to serve. Place a portion of the meat and vegetables from the pot onto a serving plate, and, then pour the gravy over the meat and vegetables.
When the clock struck 3:00 at my elementary school, I knew what to expect when I arrived at my grandmother's house. My Grandma would have home cooked food of some sort waiting for us at the kitchen table. On the days that pot roast was prepared, the salty scent of stew would overwhelm both my sister and me when walking through the entrance hallway towards the kitchen. Upon entering, we would see my grandmother slaving over the kitchen stove stirring the pot roast that she had started cooking four hours prior. We knew upon entering our grandma's kitchen that our appetites, partly from hours of four-square on the playground, would be satisfied. ot roast has been a staple in the Crawford diet for many years. My grandmother made it for me and my sisters just as my great-grandmother made it for my mother. Because of this long history, this dish has the sentiment of home attached to it.
In John Egerton's Southern Food, he remarks that "throughout their history, Southerners have paid particular attention to the meats and other entrees at either end of the table, beginning with game and fish they subsisted on centuries ago and continuing to the beef, pork, poultry, and seafood they consume now" (210). Because beef provides nutrition for a large household, it makes sense that pot roast quickly became a staple with families in the South. Egerton states, "we associate pot roast with England, from whence the dish came—but here in the United States, and especially in the South, it has picked up seasonings and spices that give it special character" (210). Much like many foods of the South, pot roast has been redefined by the culture in which it exists. Typically, the New England or later dubbed "Yankee" style pot roast has flour stirred into the gravy to make it thicker while most Southern recipes have more fluid gravy. Egerton goes on to say that, "a pot roast cooked with fresh garden vegetables can make a meal as satisfying and delicious as any Southern entrée" (211).
The tradition first arrived in the States through New England during the colonial period. Initially the tradition became popular during the colonial period because it provided protein, fed a large household, and was easy to make. One could also use any type of game for pot roast ranging from deer to squirrel. Being able to preserve meat during the colonial period, made pot roast feasible for all seasons. Sydney W. Dean in Cooking American, describes the significance of preserving meats by stating "frozen meat in warm weather was undreamed of by Early Americans as frozen fish. Hence salting or corning or 'powdering,' were customary methods of preserving beef, mutton, and venison when they were available" (112). Furthermore, there were few cooking facilities during this time. There was a crane and pothooks or hangers, an iron kettle over an open fire, or a Dutch oven, a thick-walled iron cooking pot with a tight-fitting lid. Dean goes on to remark with these limited cooking tools that "it became, then, the practice to roast and grill meats, poultry, and game when they were tender and to pot roast, bake, and stew the tougher varieties" (10). Because the tougher cuts of meat far exceeded the tender cuts of meat, pot roasting became a common practice during this time. A New England pot roast typically included a beef, potatoes, red wine, carrots, and onions. During the colonial period pot roast migrated with Colonist down the coast to the South. This is when pot roast evolved with its environment. Although pot roast was still common in the northern states in its original form, the South added common spices like garlic and thyme. According to "The Dictionary of American Food and Drink," the term "pot roast" dates in print to 1881. Because it has New England origins, it was first dubbed "Yankee Pot Roast."  Apparently during this time, pot roast was made by frugal Yankees. The New Englanders learned they could take less costly and less desirable cuts of beef, such as chuck, and feed a household. Moreover, there would always be enough left over for a second pot roast dinner or beef hash during the week.
Recognizing that the South can redefine a dish, one could push the limits even further and venture to say that a family can redefine a dish as well. Even in within my family, I feel like in a way we own our specific pot roast. For example, my great-great grandmother introduced the technique of cooking the onions underneath the meat while my great-grandmother introduced balsamic vinegar into the family recipe. Because my grandmother defines pot roast with her own recipe, she does in fact have ownership over her dish. In my mind, it seems that a recipe is more than just a food; it is a part of a family's life and heritage. My grandmother making pot roast for two tomboys--my sister and me--after an exhausting day of school was a routine part of our lives. On the other end, my grandmother cooking pot roast as well as many other family recipes was a rewarding and routine part of her life, as well.
Works Cited
Dean, Sidney W. Cooking American. New York: The American Book-Stratford P, Inc, 1957.
Egerton, John. Southern Food: At Home, On the Road, in History. Chapel Hill: University of North Carolina P, 1993.
Mariani, John F. The Dictionary of American Food and Drink: More Than 2,000 Definitions and Descriptions of American Classics. New York: 1994, Reed Business Information, Inc.
Pecan Pie
by Drayton Perkins

Ingredients:
3 large eggs
1 C Sugar
½ Tsp of Salt
2 Tbsp of Melted Butter
1 C Light Corn Syrup
1¼ C Pecans
1 Tsp of Vanilla
1 Unbaked 9" Pie Shell
Baking Directions:
Preheat oven to 375°F. Beat eggs, vanilla, sugar and salt together in a large bowl. Incorporate butter and syrup and then add in the pecans. Pour ingredients from bowl into the unbaked 9" pie shell. Bake for 30-45 minutes or until the filling has set. Remove from oven and let cool. Pecan Pie will serve 8.

I can fondly remember the many times in which my great-grandmother would have the entire family over to her house for dinner after church on Sundays. I always knew that on any given Saturday, I could find her methodically working her way around the kitchen preparing for next day's meal. I do not think that anything could ever compare to h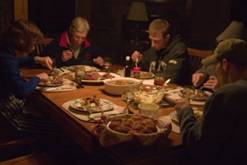 er famous Sunday spread which would not have been complete without her assortment of deserts. One desert that seemed to always been on the table was her delicious pecan pie. To our family, pecan pies were always made using the fresh pecans picked from the orchard in our back yard. Many of my childhood memories are spent gathering pecans from the orchard in order to store them away for out-of-season months. Several years have passed since my grandmother prepared those meals, and I am certain that I will never find a person that is so dedicated to connecting a family together with food. Disputes and quarrels would come and go throughout the week, but at the dinner table all was well. It was as if life was put on pause and everyone relaxed in the company of each other.

The pecan can be traced back to prehistoric times. When the French settlers established themselves in the New Orleans region, the natives there showed them the food source that they depended heavily upon throughout the year. Not long after being introduced to the pecan, the French settlers developed the first recorded recipe of the Pecan Pie.

My grandmother used to say that a "pecan pie is a slice of history," and in many aspects it is. During the mid-1850s, the pecan pie was viewed as the most important and most hallowed of all deserts. Pecan pies were only to be presented by a host to a guest in his/her home. It would have been considered an insult to the host for anyone to bring a pecan pie into a host's home.

Pecan pies have different significant values to different people. While some people bake pecan pies on a regular basis, many people will only make them at special times throughout the year. For a lot of people, pecan pies are well associated with Thanksgiving and Christmas because these are times of gathering and sharing. Regardless of when it is made, the pecan pie is a dessert that is meant to be enjoyed by all.  

The preparation of the pie is unique to the person who makes it. Just as many people in the South are especially particular about how they prefer their sweet tea, a lot of people have different preferences for their pecan pie. Some recipes call for a little syrup, some like to add a little chocolate or bourbon whiskey.  From areas that have an abundance of sugar cane, you are more likely to see the addition of sugar cane syrup. Each partiality can be tied to various regions throughout the Southeast based on availability of ingredients and cultural influences.

The pecan pie can now be purchased in the corner grocery market. Being as important as it once was, such availability would insult people from a hundred years ago. Over the years, the pecan pie has lost its significance at the dinner table and in the lives of many. In such a fast paced society, it is extremely rare to find a person that will take the time to make a pie from scratch, or take the time to actually go out and pick fresh pecans. With the resources available now, many people take for granted the actual time and labor that used to go into the production of meals.  
Mint Julep
by Tony Arena
4 fresh mint sprigs
2 ½  oz bourbon whiskey
1 tsp powdered sugar
2 tsp water

Muddle mint leaves, powdered sugar, and water in a short glass. Fill the glass with shaved or crushed ice, and add bourbon. Top with more ice and garnish with a mint sprig. Serve with a straw.

Southerners are famous for their drinking, but no southern drink is more legendary than the mint julep. One famous version of this recipe comes a letter attributed to the last surviving Lieutenant-General of the Confederacy, General Buckner.  He was a one time a Captain in the regular army of the United States, one time Lieutenant-General of the army of Confederate States of America, one time Governor of Kentucky, and one time candidate for Vice-President of the United States (http://www.thebucknerhome.com/julep/index.html). His version reeks of Lost Cause mythology, suggesting images of planters in straw hats sipping juleps from frosty silver goblets on the columned veranda of the big house.
To make a mint julep according to Simon Buckner IV, "go to a spring where cool, crystal-clear water bubbles from under a bank of dew-washed ferns. In a vessel, dip up a little water at the source. Follow the stream to its banks and gather the sweetest and tenderest shoots.  Add good Kentucky bourbon to an ancestral sugar bowl.  Pound twice as much ice as you will think you will need to a snow form and keep it dry, do not allow it to turn to slush.  In each goblet put a teaspoon full of granulated sugar.
Barely cover this with spring water and slightly bruise one mint leaf into this, leaving the spoon in the goblet.  Pour the bourbon from the decanter until the goblets are about one-fourth full. Fill goblets with snowy ice, spring in a small amount of sugar as you fill.  Wipe the outside of the goblets dry and embellish with mint. Next use the spoon to blend until there is a glittering coat of white frost."
Today, mint juleps are commonly consumed at the Kentucky derby.  Every year, according to the Churchill Downs Web site, 120,000 Mint Juleps are served in the two-day period, between the Kentucky Oaks and the Kentucky Derby weekend. That's about 1,000 pounds of mint in two days.
Frederick Allen documents that bourbon whiskey, the main ingredient used in mint juleps, got its start in the United States around the 1780's, and since then, it has become a uniquely American product.  Scotch settlers entering the area brought knowledge of how to make whiskey, and they adapted their techniques to locally-available ingredients to produce a new type of whiskey.  Despite prohibition and efforts to tax liquor heavily, bourbon production has remained a major industry in parts of the United States and the drink is recognized by some as "America's cognac" (85).
Whiskeys, including bourbon, are made in steps. In the first step the grain is ground into a coarse meal.  Next, the ground grain is mashed, which means that it is mixed with water and cooked until the grain starch converts into a sweet liquid called "wort." The spent grain is filtered out of the wort with a sieve in the separation stage.  Yeast is then added to the liquid wort, and it ferments creating alcohol.  The alcohol is then distilled off, making sure not to catch the "poisonous heads" that boil off first. Finally the alcohol matures in oak casks for a legal minimum of three years. During this maturation process the whiskey "breathes" in the barrel.  This breathing in of the barrel allows the whiskey to gain aroma, flavor and color. Aging is sometimes referred to as mellowing and takes the edge off the raw whiskey imparting a unique characteristic to the whiskey. During the aging process, a percentage of the alcohol evaporates, and this evaporated alcohol is called the "angels' share" (http://bavarianbrewerytech.com/distillery_site/pages/whiskey1.htm).
In order to be labeled as bourbon, whiskey must be distilled at no higher than 160° from a fermented mash grain containing at least 51 percent corn and stored at not more than 125 proof, in new, charred, white oak barrels.  Traditionally this was iron-free water in the distillation process. Nothing may be added to the bourbon except distilled water to adjust the proof.  It must not be bottled below 80 proof unless otherwise noted on the label (kentuckybarrels.com). The bourbon appellation is strictly controlled, and only a small number of distilleries in the vicinity of Bourbon county, Kentucky, can use the word on their product.
Like Smithfield ham or New Orleans pralines, Kentucky bourbon is one of the most distinctive artisanal foods produced in the South. It has endured both Prohibition and over-marketing to remain an important and nostalgic southern food practice. When consumed as a mint julep, it reincarnates legends.
Works Cited
Allen, Frederick. "The American Spirit." American Heritage 49 (1998): 82-92.
Carson, Gerald. The Social History of Bourbon. Lexington: U of Kentucky P, 1963.
How To Make Whiskey. Ed.  Bavarianbrewerytech.com 18 Mar. 2009.
 <http://bavarianbrewerytech.com/distillery_site/pages/whiskey1.htm).

Kentucky Bourbon. Ed. Kentucky Barrels.com. 18 Mar. 2008. http://www.kentuckybarrels.com
The Buckner Mint Julep Ceremony. Ed. Buckner, Simon IV 20 Mar. 2009.

<http://www.thebucknerhome.com/julep/index.html>
Fresh Peach Ice Cream
by Daniel Groce
1 ½ quarts light cream
1 quart milk
1 ½ cups sugar
¼ teaspoon salt
2 teaspoons vanilla
½ teaspoon almond extract
4 eggs
4 cups peaches
1 ½ cups sugar
Combine cream and milk. Stir in 1 ½ cups sugar, salt, flavoring, and beaten eggs.  Combine 1 ½ cups sugar with mashed peaches and add them into the mixture.  Place in crank-type freezer or refrigerator trays, and freeze.  Yields one gallon
Upon being assigned the task of finding a family recipe that had cultural significance to my life and to life in the South in general, I shuddered to think of just one recipe.  For years, my relatives have produced foods that deserve a place in any genuine southern cookbook; however, the implications that peach ice cream had on my life as a child reach much farther than the squash casserole I have only recently come to enjoy or the Cole slaw that I would still pass to the person beside me.
I remember that each summer, when the Georgia sun started to shine, my mother would pull out the old-fashioned ice cream maker from the garage and creatively make variations of traditional homemade ice cream. Often times, our family of four would enjoy this ice cream for days, relishing the special, homemade flavor.  By the time peaches entered the super market, it was only fitting to work them into the recipe.  I still remember some of the forced conversations my sister and I had while sitting outside, cranking that machine.
Some of my most distinctive memories of peach ice cream come from ice cream socials, a staple at many small churches in the South. The social occurred every summer, often coinciding with a creek baptism, which I must admit was fairly uncommon in Metro Atlanta.  Folks from all over the county came to socialize, worship, and maybe show off their old family recipe for ice cream.  The most common ice cream offered around Fayetteville, Georgia, was generally peach ice cream, as peaches were and still are readily accessible to most Georgians.  Also, peaches indicate a type of Georgia pride and including homegrown ingredients into our recipes just made sense.  John Fair, in referring to the increased popularity of peaches in the South, states, "much of this increased sectional identification stemmed from a growing tendency to draw contrasts with the North" (2002).  After all, what was more "southern" than a creek baptism followed by a showcase of southern desserts that were made with southern ingredients?  The ice cream social in the summertime represented the laid-back attitude of the South to the attendees, waiting as the cream churned into a frozen treat.  The time in between could be spent gossiping, laughing, and enjoying company.
Further, in many ways, the methods of making ice cream portray a departure from typical southern cooking.  As Sallie Hill states in The Progressive Farmer's Southern Cookbook, "I make bold to predict that the lady high up on the totem pole with her family will also get a great big hand for serving every so often, old time and new dishes started from scratch" (1961).  Hill's statement is a representation of a southern stereotype of women.  The assumption of most families for many years was that it was the woman's job to have meals prepared for her hardworking husband and deserving children; however, homemade ice cream demonstrates a mild role reversal.  Often times in my family, it was anybody's job but my mother's to churn the cream and peaches into ice cream.  At the social, the women, while busy doing other domestic tasks, did not always prepare the ice cream.  Churning and turning the machine took too much time and energy and it was normally reserved for the husbands or the children to complete.  While this may be a small example of a departure from the stereotypical feminine role in the South, its implications are present.
When making the ice cream, a few important things must be noted.  First, too much salt will freeze the outside of the gallon, but not the inside.  Of course, if using a hand crank, when you do not hear a humming, the ice cream is ready to eat.  Also, the vanilla and almond extracts are essential for the added flavor that brings out the homemade taste.  The art of homemade ice cream creation is a simple one, but it is not meant to be complicated. Peach ice cream represents the beauty of southern foodways not only for its simplicity and cost-effectiveness, but also because of the fellowship that the preparation requires.    
Works Cited
Fair, John D. "The Georgia Peach and the Southern Quest for Commercial Equity and Independence, 1843-1861." Georgia Historical Quarterly, 2002: 86(3).
Hill, Sallie F. The Progressive Farmer's Southern Cookbook. Birmingham: Progressive
Farmer Company, 1961. 
Houts, Amy. "Homemade Ice Cream." American Profile. 2 Mar 2009 http://www.americanprofile.com/article/4839.html
Sweet Potato Soufflé Recipe
by Kaitlin Schlosser
Soufflé:
2 cups mashed sweet potatoes
2 eggs
1 cup sugar
1 tsp. of salt
1 tsp. of cinnamon
3 table spoons of butter
1 cup of evaporated milk
Topping:
1 cup crushed cornflakes
Half a stick of butter, melted
Half a cup of brown sugar
¼ cup chopped walnuts
Preheat the oven to 350ºF. In a bowl, combine all soufflé ingredients. Once the ingredients are mixed together, place into a 9 x 9 glass baking dish. Bake for thirty minutes.
While the soufflé cooks, combine the topping ingredients into another bowl. After the soufflé has been in the oven for thirty minutes, remove the dish and sprinkle the topping along the topside of the soufflé. Return the dish into the oven and allow it to bake for an additional ten minutes.  Remove the dish from the oven, and allow it to cool.
Hernando DeSoto encountered sweet potatoes in North America as early as 1543. Native Americans in what is now Louisiana cultivated them, and they were also found in both North and South Carolina. During the colonial period, people in the Carolinas shipped them to other colonies, so they were an early food export. Potatoes were easy to keep for extended periods of time because they did not rot as fast as other foods, so this particular potato was a delectable sweet that could be used in a number of ways to liven up an otherwise bland diet. In fact, the sweet potato was the second most abundant vegetable crop grown in the American colonies next to the Irish potato (Wrench).
The sweet potato was popular also because of its versatility. It could be baked, boiled, steamed, mashed, and candied (Egerton 306). They can be sliced, dried in the sun, and then ground to make flour. This particular kind of flour can be kept for a long time without going bad (http://www.food-info.net/uk/products/rt/spotato.htm). Because of the shortages during the Civil War, people were forced to become innovative with their foods. Southerners used sweet potato as a substitute for coffee during the war. They would cut it into thin pieces, dry it, parch it, ground it, and then brew it (Wrench).
The sweet potato has a number of health benefits as well. It has great antioxidant capacities which are good for the healing process and general well being of a person. It is also rich in vitamins, like vitamin A, vitamin C, manganese, dietary fiber, vitamin B6, potassium, iron, and copper. There are a variety of sweet potatoes that range in colors from white to cream, yellow, orange, and pink to a deep purple. Based on the coloration of the potato, there are different nutrients provided. "The beta-carotene in orange-fleshed sweet potato, which our bodies can use to produce vitamin A and is therefore called 'Provitamin A,' has been reported to be more bioavailable than that from dark green leafy vegetables. Purple-fleshed sweet potatoes, on the other hand, are a good source of anthocyanins and have the highest antioxidant activity among sweet potato varieties" (http://www.whfoods.com/genpage.php?tname=foodspice&dbid=64). Sweet potatoes were, therefore, an important component of the often nutrient-poor southern diet.
The sweet potato soufflé is an adopted recipe for my family. My family is not traditionally from the South: my mother is first generation American, and her dad came to the United States from Denmark. Common ingredients used in Danish cuisine are potatoes (not sweet potatoes), red cabbage, pork, and fish, and the overall taste is largely different, so the traditional Danish diet is not as colorful and flavorful as the southern diet. However, the sweet potato soufflé recipe is something that will remain in our family for years to come, and I can guarantee that it will continue to be a staple at our Thanksgiving dinners.
Works Cited:

Egerton, John, Ann B. Egerton, and Al Clayton. Southern Food : At Home, on the Road, in History. Chapel Hill: U of North Carolina P, 1993.
"Food-Info.net : Tropical roots and tubers : Sweet potato." Food-Info. 23 Feb. 2009 <http://www.food-info.net/uk/products/rt/spotato.htm>.
"WHFoods: Sweet potatoes." The World's Healthiest Foods. 23 Feb. 2009 <http://www.whfoods.com/genpage.php?tname=foodspice&dbid=64>.
Wrench, Kent. "North Carolina Sweet Potato Commission. All rights reserved. - SweetPotato History." North Carolina Sweet Potato Commission. All rights reserved. - Home. 22 Feb. 2009 <http://www.ncsweetpotatoes.com/content/view/39/46/>.
Buttermilk Biscuits & Tomato Gravy
by Eva Walton

2 cups self-rising flour
2 tablespoons Crisco shortening
1 cup whole buttermilk
1 teaspoon baking powder
Preheat oven to 350°. In a medium-sized mixing bowl, combine flour and baking powder. Add in the Crisco, taking careful measure to press the shortening fully into the mixture with a fork. Slowly pour the buttermilk into the bowl and mix with a spoon until the dough begins to form. Knead the dough and sprinkle with extra flour. Pull apart the dough and gently roll and press the individual pieces into balls. Place in a greased baking pan and bake for 25 to 30 minutes or until biscuits turn a nice golden brown.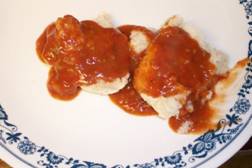 Yields: 6-8 biscuits
2 tablespoons bacon grease
2 tablespoons all-purpose flour
1 mason jar of "put up" home-grown tomatoes or 1 can (14 ½ ounces) diced tomatoes, undrained
Salt and pepper to taste
Add bacon grease to a 10- or 12-inch cast iron skillet over medium-low heat. After the grease has melted and cooked for a minute or two, slowly stir in the flour. Cook and stir over low heat until the mixture is golden brown. Gradually add the tomatoes, stirring well. Cook and stir for 3 minutes. Reduce heat and allow the mixture to simmer uncovered for 10 minutes or until thickened. (If gravy becomes too thick it can easily be cut by adding water as needed.) Stir in salt and pepper to taste. Serve over your fresh batch of buttermilk biscuits.
Many families have a recipe that transcends generations. The passing-on of this recipe becomes a familial rite-of-passage, which in my family signifies that one is an adult and can therefore be trusted behind the cast iron skillet. Although all Walton children are expected to know how to prepare Little Mama's legendary biscuits before we're old enough to decide if we even like them (we all do), the mastery of the art of making tomato gravy is a skill acquired after trial-and-error under the watchful guidance of my father, who most assuredly will be singing his favorite kitchen ditty, "Home-grown tomatoes, home-grown tomatoes, what'd life be without home-grown tomatoes? There's only two things that money can't buy and that's true love and home-grown tomatoes."
Home-grown tomatoes transform the simple, poor man's breakfast of biscuits and gravy from a mundane dish to a fare for a celebration. In the literally dirt-poor region of east-central Alabama, where my family and our recipe hail from, tomatoes grew aplenty, proving to be a staple of the regional cuisine. George Washington Carver, from nearby Tuskegee Institute, reflects on the tomato's utility in a 1936 pamphlet stating, "Every normal person should make the tomato a very prominent part of the weekly diet…It is a vegetable that is easily grown…It yields well and keeps for a long time…Our soils can be made to bring enormous yields of tomatoes… [and] they can be prepare in so many delicious ways that one can eat them every day in the week and not get tired of them" (Carver).
Although more recently-updated versions of tomato gravy allow for the use of store-bought canned tomatoes, the original recipe, dating back to the 1910s, calls for home-grown, "put up" tomatoes. In a region where even the poorest kitchen would have had ready supplies of tomatoes, the process of canning would have been essential. Using "glass containers with sealed lids" as a form of food preservation "first came into limited use…about 1820, and within fifty years had become commonplace among home canners" (Egerton 179). The practice of boiling vegetables and fruits, then sealing them in glass jars, allowed families to stretch the last season's harvest as far as possible. This is only speculation (because the inspiration behind Little Mama's gravy has been lost over the years), but it is not too far-fetched to imagine my great-grandmother going about her daily routine of preparing a breakfast of buttermilk biscuits and gravy out of the left-over bacon grease, and seeing one last jar of summer-harvested tomatoes on the shelf, pouring the contents into the hot skillet before she could stop herself—and in doing so, beginning my family's century-old obsession with the mouthwatering fare of morning mealtime.
After moving to Atlanta, Georgia in 1993, I endured years of blank stares when I would ask my friends if their families made tomato gravy, too. I became convinced that my family was the only God-loving group who had heard the gospel of home-grown tomatoes, bacon grease, and flour. In some respects I may have been on to something. Variations of tomato gravy can be found in Italian cuisine, known as "sugo" or tomato sauce with meat which is served primarily with dinnertime favorites like meatloaf or pasta (Food Timeline). Other regional cuisines which include recipes for tomato gravy are Indian and Spanish. The earliest reference for "tomato gravy" found in an American cookbook dates back to 1905 and is Spanish in origin. It calls for two pounds of lean beef to be browned in a skillet with one can of tomatoes added together with water, salt, and pepper (Feeding America). Other recipes for breakfast servings of tomato gravy call for onions, tomato juice, bacon cubes, milk, thyme, garlic, etc.
Though there are many elaborate variations of tomato gravy from across the world, I still hold that the piping gravy boat filled with home-grown tomato goodness keeps my family's breakfast repast unique. Its distinction is in its simplicity. Home-grown "put up" tomatoes, bacon grease, and flour are all one needs to recreate this dish, the aroma of which has the transcendent power to rouse generations of Waltons out of the beds at family gatherings to race down to the kitchen and make sure that they can get their hands on some tomato gravy and buttermilk biscuits while the getting is good.
Works Cited
Carver, George Washington. How to Grow the Tomato and 115 Ways to Prepare It, 2nd ed.
1936. 27 Feb. 2009
< http://plantanswers.tamu.edu/recipes/carvertomato.html>
Egerton, John. Southern Food: At Home, On the Road, In History. Chapel Hill, NC: University
of North Carolina Press, 1987.
Feeding America: The Historic American Cookbook Project. 27 Feb. 2009
< http://digital.lib.msu.edu/projects/cookbooks/display.cfm?TitleNo=36&PageNum=5>
Food Timeline: Sauces 27 Feb. 2009
< http://www.foodtimeline.org/foodsauces.html#tomato>
Hushpuppies
by John Buckner
Centuries before the hushpuppy got its name, Romans and Greeks made something very similar. After frying meat coated in a mixture of "milk, eggs, spices, and honey," there would often be extra batter, which was then fried by itself (Olver). Thus, the art of deep-frying hushpuppies or fritters evolved out of "sensibility and frugality" (Olver).
While hushpuppies, or something very similar, have existed for a long time, how did they become so commonplace in the American South? Further, why do we call them hushpuppies? The Carolina Housewife, published in 1847, contained a recipe for something closely resembling the hushpuppy referred to as "hommony fritters" (Reed). However, hushpuppies can be dated even further back. Some believe French nuns in New Orleans in the early 1700s used cornmeal to make croquettes de maize similar in size and taste to the modern hushpuppy (Stradley). Though the term hushpuppy seems unrealistically simple, all of the historical accounts for the food have one similarity, a dog being fed a cornmeal fritter and told to "hush." Some claim the name comes from Confederate soldiers feeding their dogs the bread to keep Union soldiers from hearing them while others claim it was an individual at a fish fry that coined the name. John T. Egerton believes the name likely originated in St. Marks, Florida, and while the true origin may never be for certain, the most unique explanation involves eating salamanders as "the Salamander was often known as a 'water dog' or 'water puppy'" (Stradley). Salamanders would be coated in cornmeal and fried, and because the act of eating a fried salamander was viewed poorly, people who did such would want to keep the practice quiet—hence, "hushpuppy" (Stradley).
For me, hushpuppies mean one thing, Sunday evening fish fries. My family runs a gristmill in Talbot County, Georgia, which provides fresh cornmeal, the key ingredient for hushpuppies. Growing up, Sundays were marked with a big breakfast, the CBS Sunday Morning Show, church, and little else. However, after church it was ingrained that unless unbearably cold or miserably rainy, my brother and I would go fishing. We always caught a "mess" of fish that my dad would clean and cook. We would have coleslaw prepared by my mother, while my dad would be on the back porch deep-frying the mix of Crappie, Brim and Bass. After the fish were done, dad would spoon hushpuppy batter into the hot grease. The recipe he used is one that we give all customers at the gristmill and has been used in my family for over seventy-five years. Below is the recipe from great-grandmother, "Miss Ada."
"Miss Ada's Hushpuppies"
1 ½ cups of sifted Fielder's Old Fashioned Corn Meal
¾ cup of self-rising flour
¼ teaspoon of baking soda
½ to ¾ cup of finely chopped onions
½ teaspoon salt
2 tablespoons sugar
2 eggs
Mix above ingredients with enough buttermilk to make a stiff batter that will drop from spoon. Drop by the teaspoon full into hot grease, when hushpuppies begin to brown, turn them over. Grease should be deep enough for hushpuppies to float while cooking, Drain excess grease and serve hot with fish.
Though I am accustomed to eating hushpuppies with fish, they are increasingly being consumed with barbeque, particularly in North Carolina. According to the book Holy Smoke, "it wasn't that long ago that they [hushpuppies] went with fried fish and not much else" (Reed). The author goes on to say that all the early recipes included such instructions as "fry in fish grease" (Reed). According to the book, sometime in the 1950s, a man by the name of Warner Stamey combined hushpuppies and barbeque, and now the practice is spreading.
An example of this can be found in Savannah, Georgia, where there is an annual low country boil fundraiser at Old Ft. Jackson for the Coastal Heritage Society. When I was young, we would always load up the fish cooker and head down to prepare hushpuppies for the evening's festivities. My dad's delicious hushpuppies even made it into the Savannah newspaper one time because of their popularity, which earned him an invitation to cook hushpuppies at the annual Blues and Barbeque in Savannah. The notion of hushpuppies and barbeque perplexed my family because we had always seen the two dishes as mutually exclusive, but people loved the combination, so we gave them what they wanted.
While the name may always remain a mystery, the enjoyment of hushpuppies, whether with fish or barbeque, will likely remain a staple of southern cuisine, which is good news. As long as people are cooking and eating hushpuppies, chances are they are looking for quality cornmeal and good recipes—and I know just the place to find both.
Work Cited
"Hush Puppies." The Food Timeline. Ed. Lynne Olver. 31 Dec. 2008. 19 Feb. 2009
http://www.foodtimeline.org/.
Reed, John S., and Dale V. Reed. Holy Smoke. The University of North Carolina P, 2008.
Stradley, Linda. "History of Hushpuppies." What's Cooking America. 19 Feb. 2009 Whatscookingamerica.net.
Macaroni and Cheese
by Erin Garner
16 oz. elbow macaroni
1 lb. sharp cheddar cheese, cubed
1 stick butter, sliced into pats
4 cups whole milk
1 egg
Preheat oven to 350. Cook macaroni noodles on stovetop in salted water. Drain noodles and place a layer on the bottom of a 9 x 13 glass baking dish. Scatter one third of the cheddar cheese and butter over the noodles. Repeat twice. Beat the egg with a small amount of milk and drizzle over the mixture. Pour milk over the mixture until it covers three fourths of the pasta. Bake for approximately 30 minutes, until cheese is melted.
"If you're not famous for anything else, you'll be famous for your macaroni and cheese." That's what my dad tells me every time I make it. I have my grandmother to thank—it's her recipe. And she, in her own right, was also famous for it.
It takes more than just the recipe, however, to make good macaroni and cheese. The most difficult part of writing this recipe was deciding on measurements. I usually keep adding cheese, milk and noodles until it looks right. Like many family stories and historical advice, this recipe is a folk tradition. My mom always says it's not as good when she makes it herself. I think it's because she doesn't enjoy making it. To follow a folk recipe, you have to really know the food you're trying to prepare. Many a southern cook has earned her (or his) reputation for excellent food through trial and error with folk recipes such as my family's.
Macaroni and cheese falls into the same category as fried chicken. It is, to a large extent, marketable "southern food." It actually would not have appeared on the plates of many outherners in the Old South. A recipe for macaroni and cheese did appear in 1824's The Virginia Housewife, the first southern cookbook, but such books were aimed toward wealthy women needing impressive recipes for entertaining guests.
Though the very wealthy would be able to afford to keep dairy cow and chickens, fresh dairy products were not a reality for many. Cheese, however, was the most difficult of the ingredients for a southerner to come by—and the most essential for making macaroni and cheese. Most cheeses were made by foreign immigrants, a population concentrated in the northern states, and most productions were small and localized; the first cheese factory in the United States was not built until 1851 in Oneida County, New York (The Nibble).
Macaroni and cheese did not originate in the South. It is a European dish brought over by colonists. Mac and cheese now seems very distant from linguine alfredo or spaghetti marinara, but the dish's history began right alongside these meals in Italy. Though it has been humbled by the mass consumption of "just add water" boxed mixes, macaroni and cheese's first appearance in America shows the culinary delight it was meant to be. It is rumored the dish was brought to America by Thomas Jefferson after a trip to Italy. Incidentally, Mary Randolph, author of The Virginia Housewife, was a distant cousin of Jefferson (Feeding America).
Macaroni and cheese's popularity surged in the 20th century as convenient packaged varieties surfaced in grocery stores, starting in the late 1930s. At this time, macaroni and cheese became a food for those on a meager budget, no longer requiring the purchase of cheese or the use of as much milk and butter. During WWII, rations on meat and dairy products increased the importance of meals that could be made with only a few ingredients. 
My grandmother's recipe for macaroni and cheese is among the simplest you will find. People change and add ingredients to the dish to suit their tastes or needs. Some chefs use up to seven or eight different types of cheese, including additions of mozzarella, pepper jack, or even bleu cheese. Adding a meat, commonly cubed ham, and a vegetable to a macaroni and cheese recipe can create a simple main dish. Another popular variation is a topping of bread crumbs or crushed crackers.
Not everything about mac and cheese is wonderful. Macaroni and cheese, like other traditional soul and Southern foods, is less than nutritious. In recent years, nutritionists have condemned many such foods to be unhealthy contributors to disease, including hypertension and type II diabetes. Lighter recipes, taking advantage of low-fat cheese and skim milk, now crop up regularly in a new wave of cookbooks dedicated to making soul food healthier while preserving the traditions behind the recipes (Nettles).
The focus on ingredients makes homemade macaroni and cheese a Southern food. Eating macaroni and cheese prepared with real ingredients at an authentic restaurant or the home of a good cook is a completely different experience than eating it at a chain restaurant relying on powders and oozes instead of cheese. To the diner accustomed to a baked macaroni and cheese, the packaged variety is similar to a canned peach—an attempt at imitation that could never actually be mistaken for the real thing. Though the neon orange goop may be acceptable to feed to a toddler for lunch, a real southern cook who knows the value of quality ingredients would never let guests see a box of Kraft.
The presence of macaroni and cheese, the kind made with real milk and cheese, at family gatherings is a special memory for many southerners, including myself. Though the food did not originate in the south and is not eaten exclusively in the South, its place on the table at holidays, funerals and other celebrations solidifies its role as a southern food.
Not all southern foods trace their roots to the Old South—some, like macaroni and cheese, became southern. Still, it is difficult to imagine a time when fried chicken was served without it.
Works Cited
Nettles, Kimberly D. "'Saving' Soul Food." Gastronomica 7.2 (2007): 106-113.
Feeding America: The Historic American Cookbook Project
http://digital.lib.msu.edu/projects/cookbooks/html/authors/author_randolph.html
Phillips, Joseph. "Commentary: A Brief History of Mac and Cheese" http://www.npr.org/templates/story/story.php?storyId=6455615. 8 Nov 2006.
The Nibble. "The History of Cheese" http://www.thenibble.com/REVIEWS/main/cheese/cheese2/history.asp#america
Carolina Coleslaw and Creamy Coleslaw
by Carl Lewis
Until recently, I never considered coleslaw a distinctively "southern" dish. Certainly, growing up in the flat pine backwoods of South Georgia, my family never went more than a month without eating the familiar medley of shaved cabbage, Vidalia onions, dry mustard, and cider vinegar. But we did not consciously consume coleslaw as regionally distinctive fare. Most times, we ended up preparing our slaw with prepackaged ingredients purchased from Kroger alongside two of the most quintessential all-American foodstuffs, hotdogs and hamburgers. This Coney Island ballpark image is how I viewed coleslaw until I actually went about analyzing the dish critically and tracing its rural origins. As it turns out, slaw is in fact deeply rooted in southern traditions and took hold as a natural byproduct of the region's distinctive climate and social mores.

Although now common in southern food, coleslaw began with the ancient Romans, who, according to most accounts, consumed the dish in its earliest form as a primitive mixture of raw cabbage, vinegar, eggs and spices. As it spread throughout Europe, slaw became popular with the Dutch, who named it koolsla. The English borrowed and adapted the term as "coleslaw," which in old English literally means "cabbage salad" (Ayto 85). The Dutch brought their koolsla to the Americas upon settling New Amsterdam in present-day New York. As they migrated southward from Pennsylvania and settled in the upper South, the Dutch carried the tradition of coleslaw along with them (Reed 120). Made out of ingredients suitable for growing in the South's warm climate like cabbage, onions, and celery seed, it was only a matter of time before slaw became a popular side item on the southern dinner plate. In 1839, the first documented instance of coleslaw's assimilation into the broader southern society appeared in Kentucky Housewife with Lettice Bryan's recipes for "cold slaugh" and "warm slaugh" (Egerton 290). Bryan's slaw closely drew on the Dutch tradition and fell victim to the common American miscalling of the word "cole" as "cold" that prevailed in many recipe books well into the twentieth century (Reed 120).

Coleslaw's most basic ingredients haven't changed much in the 170 years since Lettice Bryan first published her original recipe. Today, most all forms of slaw call for the same mixture of chopped cabbage peppered with healthy doses of cider vinegar, mustard seed, and salt. It wasn't until other ingredients came into the picture in the mid-nineteenth century that coleslaw grew into a truly southern food. Like most foods, southerners managed to turn coleslaw white with the introduction of mayonnaise to the dish, which is how coleslaw is typically eaten in the South today (Perelman n. pag.). Most ordinary southern cooks in the 1800s, however, could not afford mayonnaise since it called for expensive imported olive oil. To achieve that same creamy texture, southerners turned to what Elizabeth Labbe Cole's 1837 recipe book dubbed a "boiled dressing" made by heating and pouring a mixture of beaten eggs, vinegar, water, butter and dry mustard over the cabbage (Reed 124).

Slaw has almost always been served in the South as a side dish either to pork or fish. For many southerners, slaw is essential to eating barbecue. As Joe Adams puts it, barbecue and coleslaw are as essentially intertwined "as Moon Pies and RC Colas" (Reed 120). In fact, Adams says he won't even sell his restaurant's customers a barbecue sandwich without slaw as a side. While the style of coleslaw served with barbecue often tends to be more vinegar-based, it is the creamy, mayonnaise-drenched slaw that has become popular to be served alongside a traditional meal of fried fish and hushpuppies. This creamy slaw is the form of coleslaw that most southerners know and love. While many northerners have "relegated coleslaw to salad's sleazy second cousin who lives in Grandma's basement and only comes out when the family goes for all-you-can-eats" (Ayer n. pag.), in the rural south especially slaw still holds a revered place at church suppers, the family dinner table, and barbecue restaurants alike.

The Carolina Coleslaw recipe my mom used to serve alongside hotdogs and hamburgers came from the pages of an old Southern Living magazine. With no mayonnaise and a liberal amount of cider vinegar, her recipe is more indicative of the traditional Dutch recipe, not unlike what Lettice Bryan heralded in Kentucky Housewife.

Though it may not be the most "southern," at least in the KFC deep south sense, I have come to appreciate my mom's recipe much more than other slaws in the creamy fashion. Here is her recipe, which she says tastes better once it is left to sit for a night to allow the vinegar to marinate into the cabbage:

1 large cabbage
1 Medium Green Pepper
1/2 Sweet Red Pepper
1 Medium Onion
1 cup sugar
1 teaspoon salt
1 teaspoon dry mustard
1 teaspoon celery seed
1 cup cider vinegar
2/3 cup vegetable oil

Chop the cabbage, onion, and peppers into a large bowl. Bring the sugar, salt, dry mustard, celery seed, cider vinegar, and vegetable oil to a boil. Pour dressing mix over chopped cabbage, peppers and onions. Refrigerate overnight.
To be fair to the southern mayonnaise tradition, however, I also want to highlight the more conventional southern creamy slaw. Here is a typical recipe for slaw that might often be served alongside fried catfish:

3/4 cup mayonnaise
3 tablespoons sugar
1 1/2 tablespoons white wine vinegar
1/3 cup oil
1/8 teaspoon onion powder
1/8 teaspoon dry mustard
1/8 teaspoon celery salt
1 dash black pepper
1 tablespoon lemon juice
1/2 cup half-and-half
1/4 teaspoon salt
1 large head cabbage, finely shredded
Blend mayonnaise, sugar, vinegar and oil. Add onion powder, dry mustard, celery salt, pepper, lemon juice, half-and-half and salt. Stir until smooth. Pour coleslaw dressing over shredded cabbage in a large bowl and toss until cabbage is well coated. Keep coleslaw refrigerated. Coleslaw serves 8.
Works Cited
Ayer, Anjuli. Coleslaw: The delicious and brightly colored revival. A Smart Mouth, 2008.
<http://asmartmouth.com/2008/10/22/coleslaw-the-delicious-and-brightly-
colored-revival>

Ayto, John. An A to Z on Food and Drink. Oxford University Press: Oxford, 2002.

Egerton, John. Southern Food. The University of North Carolina Press: Chapel Hill, 1987.

Perelman, Deb. Coleslaw: You Could Be a Star. National Public Radio, 2007. <http://www.npr.org/templates/story/story.php?storyId=12570289>

Reed, Josh Shelton and Dale Volberg Reed. Holy Smoke: The Big Book of North Carolina Barbecue. The University of North Carolina Press: Chapel Hill, 2008.
Green Bean Bundles
by Meredith Wood
Whole Green Beans
Bacon
Garlic powder
1 cup Brown sugar
1 cup Butter
Preheat oven to 350°.  Spray baking pan to prevent sticking.  Cluster 7-9 beans and wrap with a strip of bacon, place bundle on baking sheet.  Once sheet is full of bundles, sprinkle entire sheet with garlic powder.  Melt 1 cup brown sugar into 1 cup butter.  Drizzle mixture over bundles.  Bake 25-30 minutes or until bacon is brown.
While very much my family's tradition, this meaty vegetable is probably not on most southerner's list of "southern food."  Green beans have traditionally been prepared with bits of bacon in them for flavor, but that arrangement is slightly different from this newer rendition.  The restructured creation exists from the typical ingredients already found in the southern home.  Southern food originates from this notion of using what can be found to prepare meals, and this recipe is a slightly modernized example of this tradition.

My family stands by the tradition of using the vegetables from the garden, and we grow the green beans used for the bundles.  Today beans can also be bought canned. Canned beans generally are found cut, which is inconvenient in trying to bundle.  If purchasing canned beans, one should look for whole beans.   The garden beans should be boiled in a pot of water to provide a little tenderness to the bean.  The canned beans are in juices that keep them tender and can be directly bundled.

Green beans originated in Central America well before the presence of Europeans on the continent. It is thought that the earliest Europeans found green beans growing alongside maize in North America (Harvest 3).  Beans were relatively cheap to grow, and they sprout quickly and plentifully. The beans are seasoned to taste and traditionally served as a side dish.

Bacon is a staple of the southern diet.  The first known pigs came over from Europe on ships with the first settlers.  Bacon was originally the term used for any type of consumed pork (homecooking 1).  Over the years the term has come to refer specifically to the strips of fatty material generally form the pig's torso.  Typically, the strips of pork fat are pan fried for breakfast.  In this instance, the meat is baked.  Baking is a more modern method of cooking and would not have been available in the early days of southern cooking.

The idea of modernizing traditional southern food is becoming more popular.  Nathalie Dupree presents modernized southern cooking on her show New Southern Cooking with Nathalie Dupree.  She takes the old flavors and textures and makes them into delights which can be easily prepared in today's fast paced lifestyle (UGA press).  Her experimentation is part of a much broader movement in contemporary southern cooking that blends traditional ingredients with new cooking methods and that often incorporates nontraditional ingredients in familiar dishes.

There are many other ways to prepare green beans and bacon.  This recipe is a unique method, used by my parents to convince their children to eat their vegetables and to entertain guests.  The bundle tastes mostly of sugar and bacon.  The beans are rarely even identifiable to taste.  The bundles look appealing when served as a side dish, like a present on the plate.
Works Cited:
Harvest of the Month - Growing Healthy Students. 8 Feb. 2009 <http://www.harvestofthemonth.com/download/Summer/GreenBeans/GreenBn_Edu.pdf>.
"UGA Press: New Southern Cooking • Dupree." Welcome to the University of Georgia Press. 11 Feb. 2009 <http://www.ugapress.org/0820326305.html>.
"Bacon History." Recipes - Home Cooking recipes, cooking tips, and help for the home cook. 11 Feb. 2009 <http://homecooking.about.com/od/foodhistory/a/baconhistory.htm>.
Nathalie Dupree. 13 Feb. 2009 <http://www.nathalie.com>.
Pound Cake
by Jenna Jackson
1 cup  butter
3 cups of sugar
1 cup sour cream
3 cups flour
6 eggs
1 teaspoon vanilla
½ teaspoon lemon extract
¼ teaspoon  almond extract
¼ teaspoon baking soda
¼ teaspoon salt
½ teaspoon nutmeg

Pre-heat oven to 325 degrees. First, cream room-temperature butter with sugar in a large bowl. Second, beat room-temperature eggs into mixture one at a time until thoroughly combined, and then add sour cream, extracts, and vanilla into the mix. In another bowl, sift flour, nutmeg, baking soda and salt together, and then fold dry ingredients into the wet mixture until the batter is combined. Pour batter into large greased pan and bake for 1 hour and 10 minutes or cake is golden brown.

This recipe comes from my grandmother, an 83 year old native Southerner known for her cooking. She recalls this formula to be around 30 years old, but she admits it is not the same as the one her mother used to make. After giving me the entire recipe she also confessed that all the measurements for the vanilla and extracts all 'ball parked,' usually she just adds them to suit her taste. Not having exacts amounts is not uncommon is southern cooking. A lot of recipes are passed down verbally in families. This practice is related to the way in which most cooks, many of whom were illiterate, shared recipes.

The name pound cake is derived from the original recipe that called for a pound of eggs, flour, butter and sugar. All were mixed and baked for about an hour and a half. Many women, again could not read, therefore a recipe that consists of simple measurements and simple ingredients was easy to pass from kitchen to kitchen. Thus, the name pound cake arose and clearly stuck. People have moved away from these measurements because the resulting cake is very dense.

Many variations have been made, the most popular (according to my grandmother) being a Buttermilk Pound Cake. Traditional British pound cakes are denser than southern style cakes. These are much similar to original pound cakes. The British also have a tendency to add dried fruits, and sometimes it is referred to as a version of a fruitcake. Sugar glazes seem to be the most popular customization. My Nana melts sugar and butter for her own version. She was born and raised in Louisiana, and with the abundance of sugar cane there, it is not surprising that she uses a lot of sugar in her recipes.

Although the exact location where the pound cake was founded is not known, early receipts or recipes derived from the south for pound cake contain cornmeal. This comes to no surprise since the importance of corn and its products is immeasurable in the south.  Linda Stradley, author of two well known cooks books and the 'culinary portal' "What's Cooking America?" dates the pound cake to the 1700s from British descendants. There are reports of a recipe found for a type of pound cake dated back to around 1817 in London. It was then said to be served with sugar and wine. Today, this cake is most commonly served with coffee, ice cream or fruit. The term 'cake' was used in those days to refer to bread that was sweetened. Consequently, cake was looked on as a delight and served on special occasions or holidays. In recent traditions, the pound cake is served at gathering such as picnics and other gathering like potlucks. Overtime the pound cake has changed from a privileged dessert to one that is prepared for crowds.  Derived from simple measurements and a few ingredients, this cake shines as a southern dessert that is easy to make, customize and devour.
Works Cited
What's Cooking America?. Ed. Linda Stradley. 2004. 30 Jan 2009.
<http://www.whatscookingamerica.net/ >

Tucker, Jeffery. "Pound for Pound". 28 Sept 2005. LewRockwell.com. 30 Jan 2009 http://www.lewrockwell.com/tucker/tucker60.html
Cornbread Dressing
by Eleta Andrews
4 eggs, slightly beaten
2 C crumbled cornbread
2 C biscuits or day-old bread
1 C chopped onion
1 C chopped celery
1 stick of butter
3 cans of chicken broth (fresh chicken, pork, or turkey stock is better)
2 Tbsp. salt
2 Tbsp. black pepper
1 Tbsp. sage
Sauté onions and celery in butter. Crumble cornbread and biscuits and mix together. Add sautéed celery and onion plus eggs and seasonings. Add broth. Pour in 9x13 glass dish and bake for 45 minutes at 375° or until brown. To keep it moist, pour a cup of broth over the top of the dish in the last ten minutes of cooking.
For as far back as my memory can stretch, I can remember eating cornbread dressing at my grandmother's home for Sunday night supper. Many people only partake of this delicious treat twice per year—Thanksgiving and Christmas—but my grandmother knows how much I love it, so she always prepares it when I am home from school. I am, however, not the only person to enjoy this regional delicacy. My grandmother, Mrs. Hilda Andrews, served as the head of the kitchen for four decades at Hotel Upson in Thomaston, Georgia. She and my grandfather, John W. Andrews III, owned and operated what was known as "the hotel" by the locals who would come and feast religiously every Sunday after church services. From the post-WWII 1950s through the 1990s, my grandparents fed and housed sports teams, hosted banquets and wedding receptions, and entertained politicians—and many of these people had the pleasure of enjoying this simple, yet timeless dish that my grandmother has made time and time again.

While there is much conversation over whether this dish should be referred to as "stuffing" or "dressing" (a debate I will return to later), the history of stuffing water fowl such as turkey, duck, or chicken spans centuries. Also called "forcemeat," stuffing was called farce in the Middle Ages and farcire in Ancient Rome. The term "stuffing" surfaced in 1538 in English print, but the upper echelon of Victorian England began referring to the dish as "dressing" in the 1880s because the name sounded more genteel (homecooking 1).

This forcemeat originally consisted of herbs and the less-desirable parts of meat, but dressing as we know it today is mostly cornbread or breadcrumb-based. The evolution of what went into (or as a side dish for) the roasted bird was due to the availability of foodstuffs during the time period and season of each region. Mary Randolph gives directions for stuffing a turkey in The Virginia Housewife, which was published in 1838. Her recipe called for crumbs from a loaf of bread, beef suet, sausage, eggs, nutmeg, and pepper (Randolph 41).

The debate of "stuffing" versus "dressing" not just about the name; some people argue that the two names are actually two different dishes. Melissa Wilkey owns the Gingerbread House and Restaurant in Box Springs, GA, and she says that "stuffing is not dressing. Dressing can't be beat. We use grits and cornbread, chicken broth and onions. We make it from scratch." Sandi Lee of Waverly Hall, GA owns a Bed & Breakfast and has a frank opinion about this issue, saying: "I think stuffing is what Yankees fix; dressing is what Southerners fix. That's what I think and I like dressing" (Okamoto). Both Wilkey and Lee go on to say that the terms "stuffing" and "dressing" are American distinctions between Northern bread-crumb stuffing that goes inside the bird and Southern cornbread dressing that is baked in a glass dish.

This cultural distinction is a keen commentary on regional cooking differences according to availability. In the 18th and 19th centuries, Northerners would have had more access to wheat to use day-old bread whereas Southerners would have had ample access to corn and cornmeal. This regional difference is also contingent upon the preferences of its denizens: if Southerners were more accustomed to eating the smooth, buttery cornbread, they would have preferred it to the coarse, herb-filled breadcrumbs. The fact that this cultural division still exists is most likely attributed to the romance of Southern memory. My grandmother uses both cornbread and biscuits in her recipe out of resourcefulness; the Hotel Upson had a lot of extra biscuits lying around after breakfast was served, so she uses both biscuits and cornbread in her recipe.

Other regional distinctions for stuffing and dressing come from geographic location and family background. Cooks from coastal regions, such as the Carolina and Coastal Georgia, incorporate oysters or rice in their dressing. Some people from New Orleans use andouille sausage. Americans with an Italian background often use Italian sausage in their dressing while many German-Americans use apples or dried fruit. Some southerners incorporate the indigenous pecan nut.

While all of these variations sound tasty, my grandmother's recipe is just fine by me. While some diners look forward to the sweet pieces of apple or the savory chunks of sausage in their dressings, I prefer the simple, yet special taste of cornbread. Softly seasoned with a hint of onion and celery, my grandmother's cornbread dressing has more than four decades of fans, and I am certainly one of them.

Works Cited
http://www.foodtimeline.org/foodmeats.html#dressing Date accessed: February 3, 2009.

http://homecooking.about.com/od/foodhistory/a/stuffinghistory.htm Date accessed: February 3, 2009.

Okamato, Sandra. "Fired Up Over Dressing –Er, Stuffing." Columbus Ledger-Enquirer. 2003.

Randolph, Mary. The Virginia Housewife. Baltimore: Plaskitt, Fite, 1838.
Spiced Peach Salad
Kathryn Doornbos
1 can (17-20 oz) sliced cling peaches
¼ cup vinegar
¼ cup sugar
12 whole cloves
1/2 teaspoon cinnamon
1 package (3oz) orange flavored Jell-O
¾ cup cold water
Drain peaches, retaining ¾ cup syrup. Chop peaches coarsely. Combine sugar, syrup, vinegar, and spices in a saucepan and slowly bring to a boil. Add chopped peaches. Simmer ten minutes, taking care not to brown peaches. Strain syrup, set peaches aside, and discard cloves. Add boiling water, if necessary, to bring total liquid volume to 1 cup. Add cold water, Jell-O mix and peaches. Stir until Jell-O mix dissolves. Pour into quart-size mold and allow to set. Salad may be sliced into rounds and served. This recipe may be easily doubled or tripled for larger gelatin molds.
Thirty-six hours before Thanksgiving dinner this year, I was in panic mode. The turkey was defrosting, the pecan pies were cooling, and the accoutrements were carefully planned—all except one. My grandmother's meticulously hand-penned recipe for Spiced Peach Salad was missing from our recipe box, and my mother, the foremost expert on its preparation, was sailing the Gulf of Mexico on a 30th anniversary holiday with my father.  My guests would never know the difference, but I knew that Thanksgiving would not be official without a festive ring mold dusted with cinnamon and cloves, emanating the smells of summer's pinnacle fruit. In desperation, I tried to prepare the recipe from memory. I knew immediately that the color was off, and when I de-molded the ring, there was a tell-tale whole clove crown of negligence. Regardless of my poor memory and mediocre preparation, the result was enough to make my Thanksgiving quasi-official.
My family's spiced peach salad recipe probably originated from a rural Mississippi newspaper clipping in the 1960's, but there are a multitude of variations present in several Jell-O and church cookbooks. The variations all center on the importance of simmering the peaches with the vinegar and spices for a sufficient, but not excessive, amount of time. This combination is reminiscent, both in ingredients and flavors, of the tradition preparation of pickled peaches (Egerton 188). In this modern version, substantial shortcuts are taken, allowing supermarket-reliant families to enjoy a taste of tradition without a season long wait. The fact that this particular dish is eaten with the holiday meals likely attests to the reverence attached to the preservation of summer's fruit. Despite the season-less eating habits of today's society, the careful preservation and subsequent celebratory unveiling of the summers fruit and vegetable glories was an integral component of Southern tradition. Peaches, in particular, are synonymous with southern summers and the image of the South popular among non-Southerners and locals alike (Groce).  Their inclusion in this recipe is the only distinguishable "southern" aspect of an otherwise mundane remix of the ever so popular Jell-O salad.
Jell-O itself has an important history on the American dinner table beginning with the marketing of powdered gelatin with fruit flavoring in 1902. The advent of Jell-O allowed gelled deserts to grace the tables of families outside of high society. Previous preparation of gelled dishes involved long and tedious solid gelatin purification, which required expensive raw products and specialized techniques. However, it was not until the 1930's when the still recognizable "J-E-L-L-O" jingle hit mainstream radio stations that Jell-O became a ubiquitous kitchen ingredient. Its accessibility, low price, and simplicity allowed cooks of all classes to utilize it in gelled salads, deserts, puddings, and side-dishes. Mass marketing and the catchy slogan the 1964 slogan "There's always room for Jell-O" heightened the product's popularity. Jell-O is a perfect example of a food product that, partly through expert marketing, permeates socioeconomic kitchen barriers ("Jell-O History").
Cold, congealed salads hold a special place in Southerners' hearts because they offer a sweet, light reprieve from the sometimes unbearable heat of the Southern summer. My Mother notes that when she migrated from Michigan to Tennessee during a particularly blistering summer in the 1970's Jell-O salads were a prized and happily anticipated part of the afternoon tradition. Her new lady friends gave her index card after index card filled with varied fruit, vegetable and, believe it or not, fish Jell-O salads, all of which were served chilled. While purely speculative, it is not hard to imagine why Jell-O might be particularly popular in the South. In addition to being a heat reprieve, it can be modified to incorporate fresh, homegrown produce, but it has modern flair that has made it an attractive alternative to traditional dishes. It remains affordable, at less than a dollar a box for the Jell-O brand and far less for supermarket generics. And, perhaps most important, it is an easily prepared, versatile dish to serve at a variety of family and community functions.
In the case of spiced peach salad, its popularity in my family is likely the product of isolated tradition instead of a broader standing regional custom. We enjoy it, and it is—and always will be—a staple on our holiday table.

Works Cited

Egerton, John. Southern Food: At Home, on the Road, in History. Chapel Hill: University of North Carolina Press, 1993.

Groce, Daniel. "Peaches." Southern Foodways Student Presentation. 28 Jan 2009.

"Jell-O History." The Jell-O Gallery. 2001. Le Roy Historical Society,
Inc. 28 Jan 2009 <http://www.jellogallery.org/jellohistory3.html>.
Southern Cornbread
Carrie Coburn
2 cups self-rising white cornmeal mix
1 ¼- 1 ½ cups buttermilk
¼ cup of vegetable oil
1 large egg
1-2 tablespoons of sugar
Heat oven to 425˚. Coat an 8" or 10" cast iron skillet with vegetable oil, and place it in the oven to heat. Combine ingredients until moist but somewhat lumpy. Let batter sit at room temperature while the oven warms to allow leavening to activate. Pour into heated skillet and bake for 20-25 minutes until golden brown.
Sallie F. Hill, author of The Progressive Farmer's Southern Cookbook, declared that trying to cook without cornmeal in the South is a lost cause (Egerton 226). Corn and it's many variations, including the classic cornbread, have a long history that reaches back even further than the South itself. Native Americans introduced corn to the European settlers when the first colonists landed in Jamestown in 1608. Their traditional food products, such as wheat, were in short supply, forcing them to make do with what was locally available. Corn could be roasted, ground into meal, and then made into cakes, breads, and porridges (Olver). This form of bread was essential to the health and diet of the original colonists, and it has persisted through time. It continues on as a southern favorite with recipes and variations passed down through generations.  
There are many different adaptations of cornbread, such as corn pone, ashcakes, hoecakes, Johnnycakes, spoonbreads, corn dodgers, and fritters. In early America, each colony or community had their own version and names for these breads (Olver). Hoecakes, for example, are a mixture of cornmeal, water, and salt commonly found in the lower South. Slaves and field laborers could prepare this simple mixture and bake it over the fire on the flat of a hoe. Another variation similar to the hoecake is an ashcake, which was cooked directly upon the floor of a fireplace.  The origin of the name "Johnnycakes," frequently found in the upper South, is debated. Some believe it was a misinterpretation "journeycakes" or of the Indian "Shawnee cake." John Egerton, author of Southern Food, describes spoonbread, the upper crust incarnation of cornbread, as "a steaming hot, feather-light dish of cornmeal mixed with butter, eggs, milk and seasoning and lifted by the heat of the oven to a soufflé of airiness" (Egerton 227).
Traditional southern cornbread is made from a batter of white cornmeal, flour, eggs, buttermilk, and shortening. It tends to have a salty flavor and is sometimes cooked with cracklins, fried pork skin. Other areas of the U.S. have had their own influence on traditional recipes. The northern version is generally sweeter, made with either sugar or molasses and yellow corn meal instead of the southern preference for white. Southwesterners, influenced by Mexican cuisine, sometimes add fresh or creamed corn kernels, jalapeño peppers, and cheese.
The early South, where traditional cornbread originated, was a very different place than we know today. Most families lived on farms, working from sun up to sun down. The women in the family would have been in charge of the cooking while the men worked in the fields. The largest meal of the day, dinner, was served around noon. Cornbread would have been served as a side dish at most midday meals and whatever was left over would be served in the evening at supper (Center for Public History). Meals in the homes of the wealthy planter class would have been much different. Slaves did the cooking with better quality ingredients. If they were to serve cornbread, they would have served spoonbread, not the simple ashcakes or hoecakes the slaves cooked in their own homes.  In one form or another, cornbread was seen in all households in the South and was prepared by nearly all women, white and black.
So far, cornbread has withstood the test of time, but we are entering an era where traditional southern foods are changing or disappearing. This is an age of fast food and fat-free diets, families no longer sit around the table at dinner time, people are concerned that southern food is too unhealthy, and with so many women moving into the work force, modern families don't have the time or just don't want to take the time to prepare traditional southern food. Cornbread, however, doesn't seem to be in danger of extinction. Its simplicity and versatility still make it a staple in homes and restaurants across the entire United States. Southerners' love of cornbread goes far back, and we can expect to enjoy it for many generations to come.
Works Cited
Egerton, John. Southern Food: At Home, on the Road, in History. The University of North Carolina Press, 1993.
Egerton, John. "Roots of Southern Food." Southern Living 1 Feb. 1990: 54.
Olver, Lynn. "www.foodtimeline.org/foodfaq." The Food Timeline-history notes: ambrosia to cornbread. 24 Jan. 2009 http://www.foodtimeline.org/foodfaq.html#cornbread
"Cornbread". University of West Georgia Center for Public History. 25 Jan 2009. http://www.westga.edu/cph/index_6656.php
Sherried Chicken Salad
Allison Doerr




6 cups chopped cooked chicken
3 cups sliced red grapes
1 cup toasted chopped pecans
2 diced celery ribs
3 minced green onions
¾ cup mayonnaise
¼ cup sour cream
3 tablespoons sherry
½ teaspoon seasoned salt
½ teaspoon seasoned pepper

Stir together all ingredients.
Chicken salad is a common, easy to make dish that easily lends itself to several variations. Therefore, everyone seems to have their own favorite version. Some of these recipes simply use just canned chicken, mayonnaise, and celery, but people include a vast array of variations. Many different fruits or vegetables—such as grapes, cranberries, apples, and water chestnuts—may be added. Some recipes also add pecans, almonds, or walnuts. Other varieties also include lemon juice, eggs, curry and a wide assortment of other ingredients. More recently, there have been more tropical variations made on this classic recipe that include mangoes, bananas, coconut, and peaches.
This version of chicken salad is still fairly traditional, but it has more updated ingredients. An example of these update includes the use of seasoned salt and seasoned pepper.  Seasoning blends can be made at home, but they can easily be bought in the grocery store.  One popular brand is Lawry's.  They have been making seasoned salt and pepper since 1938 using a "blend of salt [pepper], herbs and spices" (Seasoned Salt).  Another modern ingredient is the sherry, a cooking wine that adds a unique, sophisticated flavor to the chicken salad.  The seasoned salt and pepper and sherry make this chicken salad seem more special or extravagant, because of the richer flavors that they add.
Not only can chicken salad be prepared in dozens of ways, but it can also be served in dozens of ways. It can be found as its own dish, as an addition to a typical green salad, or as a sandwich.  Even the sandwiches can be prepared in a variety of ways depending on the event.  This ranges from being served on basic sandwich bread, croissants, or even biscuits. Because of this range of ways to make and serve chicken salad, it can be found in any of the meals throughout the day.
Historically, lower class southerners would not have eaten chicken salad. Baking, frying, barbecuing, or smoking a chicken costs less than adding the extra time and ingredients necessary to make chicken salad. Before refrigerated transit, celery and grapes would not have been very easily accessible, and therefore they would be expensive. Poorer southerners would not have frequently eaten chicken salad until well after World War II because it needs to be refrigerated, due to the mayonnaise and other ingredients. This would not have been an option for these families because they would not have had been able to access any means of refrigeration easily.
Chicken salad can be served at a vast assortment of functions, but it most frequently appears at picnics or at receptions. Margaret Mitchell said that when she made her debut in 1920-1921 she "was eating chicken salad sandwiches for a year" (Pyron 503). Debutants attend a wide array of parties, such as brunches, luncheons, and dinner parties.  Mitchell's comment associates the food with white, middle class social events of the early twentieth century. While some of the foods commonly found on these menus have been updated to make them more modern, the chicken salad sandwich still plays a major role in the debutante lifestyle. This infiltration of chicken salad goes beyond just what is commonly called "The Season" and all of the parties that go along with it. Chicken salad sandwiches remain a staple of celebrations such as engagements, bridal and baby showers, and ladies' luncheons. In addition to these events, our family always has sherried chicken salad for family gatherings, such as graduations, birthday parties, and the Fourth of July.
Today, chicken salad is not so much a middle class food. It can be found everywhere, ranging from homes of all levels of social class, upscale restaurants, and all the way to fast food chains, such as Chik-fil-a.
Works Cited

Pyron, Darden Asbury. "Reviewed work: Road to Tara: the Life of Margaret Mitchell. By Anne Edwards." The Journal of Southern History 50.3 (1984): 502-503. JSTOR. Southern Historical Association. 19 Jan. 2009 <http://www.jstor.org/stable/2208610>.
"Seasoned Salt." Lawry's. 2008. 25 Jan. 2009 <http://www.lawrys.com/main/ product.aspx?ProductId=137>.
Pineapple Upside-Down Cake
David A. Davis
1 cup brown sugar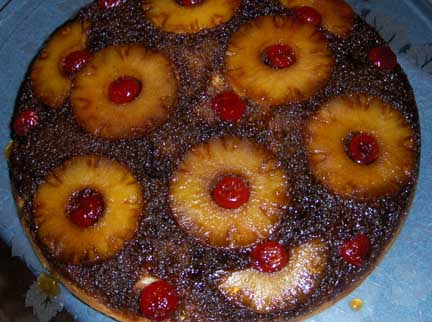 3 tablespoons butter
6 rings of canned pineapple
6 maraschino cherries
3 eggs
1 cup sugar
½  cup pineapple juice
1 teaspoon vanilla
½ teaspoon ground ginger
½ teaspoon ground nutmeg
1 ½ cups all-purpose flour
1 ½  teaspoons baking powder
¼  teaspoon salt
Preheat oven to 350°. In a 12-inch cast iron skillet over medium-low heat, combine brown sugar and butter, and cook until sugar melted. Remove the skillet from the heat once the sugar melts because it can burn easily. Arrange pineapple slices over the sugar mixture and place a cherry in the center of each slice.

Separate three eggs, reserving the whites. In a mixing bowl, beat the egg yolks until thick. Add sugar, pineapple juice, ginger, and vanilla, and continue beating for another minute. Sift flour, salt, and baking powder together and stir into batter. Beat egg whites until stiff and fold into batter.

Pour batter over pineapple in skillet. Bake for about 25 to 30 minutes. Invert onto a large plate and serve warm with whipped cream or topping.
This simple recipe yields a lovely dessert that admits hundreds of embellishments. Some cooks use fresh pineapple chunks, but others prefer the characteristic kitschy pineapple rings. Dotting the rings with maraschino cherries has become traditional, but this was not an original element of the recipe.
Other common variations include adding other spices to the batter. Ginger, nutmeg, and cardamon complement the tropical fruit well. Actually, other fruits can be added or substituted in the recipe, such as peach upside-down cake, mango upside-down cake, or bananas foster upside-down cake with a good dose of dark rum. Some cooks add nuts, such as pecans or macadamia nuts, and others add ground nuts to the batter. My signature variation is to add pineapple juice to the batter.
Pineapple upside-down cake often appears at large gathering because it makes a spectacular appearance with minimal effort, and because it's difficult to mess up. One of my aunts consistently brings it to family reunions, funerals, and potlucks, so it always reminds me of her.
The recipe was originally appeared on pineapple cans in the early twentieth century when Hawaiian growers were promoting the exotic fruit in the mainland market. Skillet cakes were a fairly common dessert, especially in the South where most cooks preferred cast iron cookware. Now, because aluminum bakeware and space age cake mixes dominate the kitchen, the cake is a welcome atavism.