Welcome to Adventure Unlimited!
Welcome to your next adventure!
Explore the jungles of Costa Rica, Dive in the Grand Caymans, Ride the rapids of the Colorado River, Climb El Capitain! Explore your Boundries with Adventure Unlimited.
We have the world's most experienced guides to ensure that your trip is not only action packed, but also safe and pleasurable. Our guides are Red Cross and PADI certified. Our team of professionals are dedicated to making your adventure the best adventure on the planet.
We offer many levels of packages that allow anyone who wants an adventure to have the trip of a lifetime. Our most expensive adventure packages provide you with the most intense trip and at the same time provide you with the finest food and lodging throughout the world. For the more adventuresome, we offer packages at affordable rates that don't skimp on the adventure element. Make your next adventure Unlimited!
For more information on one of our many packages, contact our staff at trips@unlimited.com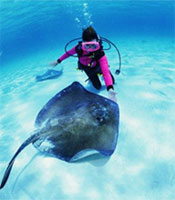 Adventure Unlimited