Visual Aids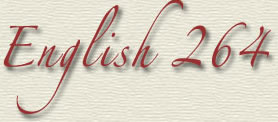 This page provides access to a variety of interesting visual aids to enhance and deepen your reading of the texts for our class. I hope these paintings, photographs, manuscripts and maps will help the periods and authors come to life for you. These links will open in a new page; close it to return to this one.

Paintings
Photographs
Manuscripts
Scanned from images in the British Library collection, and published in Chris Fletcher's book, 1000 Years of English Literature: A Treasury of Literary Manuscripts. These images are intended only for viewing by my students, which should fall under "fair use" provisions of copyright law.
Maps
Although our textbook includes some maps, there are many others available on the web to help you get your bearings and visualize the world of our authors. Comparing maps can emphasize the profound changes occurring during this period.
This page last updated 19 August, 2004