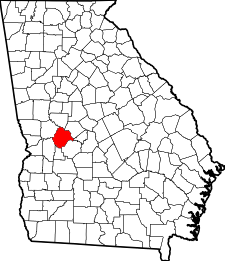 Butler, the county seat of Taylor County, was incorporated on February 8, 1854; however, the charter for the town was not received until 1870. Butler was named for General William Orlando Butler, a distinguished hero of the Mexican War.

Taylor County was created by a January 15, 1852 act of the Georgia General Assembly from portions of Macon, Marion and Talbot counties.
The County is named for Zachary Taylor, twelfth President of the United States.

The Taylor County courthouse was built in 1935 and is listed on the National Register of Historic Places. The courthouse's bell tower was restored in 1995.

The 2005 Census Estimate shows a population of 8,887.
Not only is Butler the county seat it is also home to the Countryside Festival held the first weekend in November.
The festival includes an arts and crafts show, a parade, live entertainment, and other "ole time" activities like greased pig contests, sack races, apple bobbing, cow patty bingo and Americana
dress contest.

Todays weather in Butler, Georgia

If you experience problems email: